Mfundo Radebe Essay Writing
'The world's youth are tasked with presenting a new document that safeguards and promotes the rights, privileges and liberties of either their own country or the whole world.'


Submissions are now closed.
My Magna Carta was an international creative essay competition for 11 to 18 year olds to celebrate the 800th anniversary of the sealing of Magna Carta. Young people in the UK and across the ESU's member countries in the Commonwealth and across the world were invited to create their very own Magna Carta for the 21st century. The competition was also open to entrants from other Commonwealth countries.
Taking the Magna Carta as their source document, the world's youth were tasked to present a new document that safeguards and promotes the rights, privileges and liberties of either their own country or the whole world. As in the original document, entrants needed to give particular thought to the powers of presidents, prime ministers and monarchs that need to be limited. Entrants were encouraged to draw lessons from recent national and international events.
This exercise was predominantly creative, but also required a degree of academic understanding of the history, contents, and significance of the 1215 document. The ESU therefore provided links to teaching resources to introduce the topic to young people.
Entrants represented their Magna Carta as a written piece. Video readings of the entry were also accepted but as an augmentation of the written entry. The top 2 entries from national finals were submitted to the ESU Central panel for judging. Continent winners [plus the UK winner] were invited to a Magna Carta Celebration Gala on the 15th October at the ESU HQ in London to present their entry to a live audience. The event was live streamed worldwide to allow the participants' host communities [amongst others] to witness the presentation and join in the subsequent questioning of the presenter.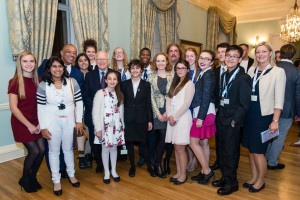 (Pictured: Sir Robert Worcester, with the continental winners. Click for larger view)
More than 100 nations were eligible to enter this competition. For the full listing, and for more information about the project, click here.
Click here to read the competition entries.
The final winners were:
• Junior – Jane Josefowicz (USA)
• Senior – Mfundo Radebe (South Africa)
The continent winners of both the junior and senior age categories were:
Africa
• Junior – Kayseka Geerjanan (Mauritius)
• Senior – Mfundo Radebe (South Africa)
Asia
• Junior – Xue-Ern Neo (Malaysia)
• Senior – Fathima Nifra (Sri Lanka)
Australasia
• Junior – Ella McEvoy (Australia)
• Senior – Jack Donnelly (Australia)
Europe
• Junior – Marie Georgette Spiteri (Malta)
• Senior – Sofija Jovanovic (Serbia)
South America
• Junior – Valentina Errazuriz (Chile)
• Senior – Rocio Lopez (Chile)
North America
• Junior – Jane Josefowicz (USA)
• Senior – Isabelle McMullen (USA)
UK*
• Junior – Laura White (Uxbridge)
• Senior – Alice Wilson (Herefordshire)
*The UK was treated as a separate continent for the purposes of the competition.
We are also pleased to announce a legacy project entitled My Magna Carta: The Constitutional Voice of Tomorrow, which will give the winning entries a further international platform. Utilising the existing My Magna Carta website we will reproduce some of the very best submissions together with short clips from the final event itself, as a way of highlighting key themes discussed by entrants around the globe. Through digital distribution we will allow more young people to access these resources, and develop and discuss their own ideas about some of the most important issues of the 21st Century.
Central Judging Panel:
-Dr Katherine Williams [Chair] – historian and presenter
-Sir Robert Worcester, Chairman of the 800th Committee.
-Professor James Raven – Professor of Modern History, University of Essex
-Sian Williams – founder of the Children's Bookshow
-Justin Champion, Professor of the History of Ideas, Royal Holloway, University of London.
Featured Article
The early settlers in the United States took with them copies of the Magna Carta. One undertaking given by King John in that Charter was as follows: No freeman shall be arrested or imprisoned or disseised or outlawed or exiled or in...
Read on...
Recent Articles
Stay updated
If you would like to keep informed about the work of the Magna Carta Trust and our partners, please sign up to the newsletter below.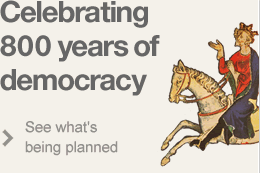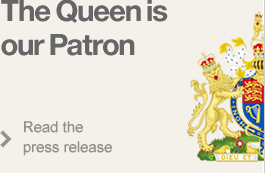 Mfundo Radebe, an 18 year old Umlazi Teenager who despite the odds and challenges is proving nothing is impossible through education. He has just been accepted at Harvard University on a full scholarship.
His mother had him while she was in her matric year which meant she had to drop out of school to take care of him.
Mfundo grew up in a small home in Umlazi until his mother could no longer take care of him which meant he had to move in with his absent father's family in Ndolindi, north of KwaZulu-Natal.
In just a short time, and suffering terrible abuse, Mfundo was forced to move back to Umlazi with relatives.
"Due to the abuse that I experienced there, I had to move back to Umlazi where I stayed with my grandparents."
During his formative years, he moved schools quite often but worked tirelessly to be awarded the Michael and Susan Dell scholarship allowing Mfundo to attend Northwood School and attain a better education.
"I have always felt that if I want to get to the point where I can make a difference in South Africa, then I would need to always get the best education possible."
Mfundo has his sights set on big things and spent his schooling career writing & motivating to various institutions to gain access to even better education.
"From Grade 9 at Northwood till I was in Grade 10 and was first in grade, I wrote letters constantly to the ADvTECH board, which owns Crawford Schools, seeking a full scholarship allowing me to attend Crawford as I simply could not afford the fees. I never gave up even though they always said no and I was eventually the first to be given a full compassionate scholarship to Crawford."
He has pushed himself to great heights at Crawford.
Mfundo was able to become a national debate champion in just a few months after being exposed to debating. He was able to engage in politics on a national stage including speaking at the national Mandela Day gala sharing the stage with Minister Nathi Mthethwa. He was also invited to become the first ever national young social cohesion advocate.
"Just this year I won the title of international grand champion of the Magna Carta competition after the public speaking finals held in London. My essay on government and the Constitution had been selected as the best across Africa allowing me to travel to London."
Mfundo's story has just begun as has just been accepted at Harvard University on a full scholarship… we will follow his story as he leaves early next year to further his education.
"My greatest desire is that I will be able to share my story with South Africa about how we can be able to defy the status quo. If a young man from Umlazi can be able to achieve international acclaim, something society thinks he would never be capable of, then I know that there is great hope for South Africa."
Facebook Comments
Brent Lindeque is the founder and man in charge at Good Things Guy. Recognised as one of the Mail and Guardian's Top 200 Young South African's as well as a Primedia LeadSA Hero, Brent is a change maker, thought leader, radio host, foodie, vlogger, writer and all round good guy.
#TheGoodStuffAwesomeChange One ThingDon't MissFeaturedHeroInspirationSouth Afri-CANThe Good Stuff