Freshman Year Of High School Experience Essays
Civic Learning in the Major by Design
Fall 2017
Educating students to be responsible, informed, and engaged citizens in their workplaces and the... Read more
Faculty Collaboratives
Summer 2017
This issue features the AAC&U Faculty Collaboratives project, which has created a large-scale,... Read more
Committing to Equity and Inclusive Excellence
Spring 2017
Since 1970, bachelor degree attainment among students from wealthy families nearly doubled, but it... Read more
New Frontiers in Writing
Winter 2017
This issue builds on and explores implications of findings from the National Census of Writing. It... Read more
Integrating Evidence: The STIRS Approach
Fall 2016
The Scientific Thinking and Integrative Reasoning Skills (STIRS) framework has been developed, used... Read more
Advancing Equity and Student Success through Eportfolios
Summer 2016
Adoption of eportfolio pedagogies and practices in conjunction with Signature Work provide the... Read more
Transparency and Problem-Centered Learning
Winter/Spring 2016
This issue, funded by TG Philanthropy, explores the relationship between high-impact practices and... Read more
Advancing Collaborative Roadmaps for Student Success
Fall 2015
Sponsored by The Kresge Foundation, this issue focuses on campus, state, regional, and national... Read more
Rethinking Preparation for Work: A Civic-Enriched Liberal Education
Summer 2015
In a world where college graduates spend the majority of their public lives engaged in work, this... Read more
Navigating Institutional Change for Student Success in STEM
Spring 2015
This issue, sponsored by the W. M. Keck Foundation as part of the PKAL Guide to Systemic... Read more
Faculty Leadership for Integrative Liberal Learning
Fall/Winter 2015
This issue, sponsored by the Teagle and Mellon foundations, offers insights about the central role... Read more
Quantitative Reasoning
Summer 2014
Quantitative reasoning skills―the habit of mind, competency, and comfort in working with numerical... Read more
Gender Equity in STEM
Spring 2014
Close examination of the status of women science and engineering faculty at four-year colleges and... Read more
E-Portfolios: For Reflection, Learning, and Assessment
Winter 2014
E-portfolios are now being used in more than half of US colleges and universities. This issue... Read more
Capstones and Integrative Learning
Fall 2013
Whether they're called senior capstones or some other name, these culminating experiences require... Read more
The Changing Nature of Faculty Roles
Summer 2013
This issue explores the evolution of faculty roles, including the growing dependence on non-tenure-... Read more
Models for Student Success: Developing a Community College Student Roadmap
Spring 2013
This issue highlights lessons learned from Developing a Community College Student Roadmap, the LEAP... Read more
Collaborative Leadership for Liberal Education
Winter 2013
This issue explores how campus leaders—presidents, boards, administrators and faculty—can best work... Read more
Essential Learning Outcomes, the New MCAT, and Curricular Change
Fall 2012
This issue focuses on the new changes to the MCAT, which focus more on broad integrative learning... Read more
Frontiers of Faculty Work: Embracing Innovation and High-Impact Practices
Summer 2012
This issue centers on how faculty are using high-impact educational practices in individual... Read more
The Liberally Educated Professional
Spring 2012
This issue explores how various professional programs, such as education, engineering, and nursing... Read more
Assessing Liberal Education Outcomes Using VALUE Rubrics
Fall/Winter 2011
This issue focuses on AAC&U's VALUE rubrics, which were tested on more than one hundred pilot... Read more
Advancing What Works in STEM: A View Through the PKAL Lens
Summer 2011
This issue of Peer Review emerges from the new partnership between Project Kaleidoscope (PKAL) and... Read more
Lessons on Systemic Reform from the LEAP States Initiative
Spring 2011
This issue of Peer Review highlights lessons learned from AAC&U's LEAP States initiative.... Read more
Returning Adult Students
Winter 2011
Adult students comprise a growing population on college campuses. This issue features a range of... Read more
Internships and Experiential Learning
Fall 2010
Articles in this issue present best practices for creating internships and other experiential... Read more
The Future of the Faculty: Collaborating to Cultivate Change
Summer 2010
This issue explores new strategies for diversifying the faculty and developing their effectiveness... Read more
Undergraduate Research
Spring 2010
This issue highlights undergraduate programs that integrate students into the research community... Read more
Engaging Departments: Assessing Student Learning
Winter 2010
This issue explores how departments are developing assessment approaches that deepen student... Read more
Study Abroad and Global Learning: Exploring Connections
Fall 2009
Peer Review, Fall, 2009: Features articles on best practices in campus study abroad programs,... Read more
Liberal Education and Undergraduate Public Health Studies
Summer 2009
This issue makes the case for a bridge between the undergraduate and public health communities,... Read more
Good Teaching: What Is It and How Do We Measure It?
Spring 2009
This issue addresses specific challenges faculty are facing in the classroom today. It explores... Read more
Assessing Learning Outcomes: Lessons from AAC&U's VALUE Project
Winter 2009
This issue focuses on AAC&U's VALUE project and provides an overview of new assessment... Read more
Toward Intentionality and Integration
Fall 2008
Intentionality and integrative learning, captured in the LEAP vision of essential learning outcomes... Read more
Student Political Engagement
Spring/Summer 2008
This issue examines how the academy engages students in their learning today to help them grow as... Read more
Academic Advising
Winter 2008
This issue addresses the role of academic advising in undergraduate education with a special focus... Read more
Faculty Development: Finding Balance in Changing Roles
Fall 2007
Faculty development will play a critical role in efforts to achieve essential learning outcomes for... Read more
Bringing Theory to Practice
Summer 2007
The Bringing Theory to Practice (BTtoP) project seeks to advance engaged student learning and... Read more
Assessing Student Learning
Spring 2007
As campuses implement more complex assignments, community placements, internships, student research... Read more
Student Preparation, Motivation, and Achievement
Winter 2007
The issue presents data on college readiness, effective strategies for increasing student... Read more
Learning & Technology
Fall 2006
This issue examines a range of current issues concerning the role and use of technology in student... Read more
Successful Transitions to College Through First- Year Programs
Summer 2006
This issue features first-year programs that are designed to facilitate positive transitions for... Read more
The Creativity Imperative
Spring 2006
Why is cultivating creative abilities among today's students so essential? This issue focuses on... Read more
Undergraduate Research
Winter 2006
This issue highlights undergraduate programs that integrate students into the research community... Read more
Integrative Learning
Summer/Fall 2005
The Summer/Fall 2005 issue of Peer Review focuses on integrative learning. Integrative abilities... Read more
Liberal Education and the Entrepreneurial Spirit
Spring 2005
Sponsored by the Kauffman Consortium for Liberal Education and Entrepreneurship, housed at the... Read more
Science and Engaged Learning
Winter 2005
This issue explores efforts to improve science education for majors and nonmajors through new forms... Read more
Creating Shared Responsibility for General Education and Assessment
Fall 2004
Challenging the widespread notion that general education is something to "get out of the way as... Read more
Quantitative Literacy
Summer 2004
This issue focuses on quantitative literacy as a key outcome of liberal education and explores... Read more
Advancing the Conversation Between Graduate and Undergraduate Education
Spring 2004
Planned in coordination with the Carnegie Foundation for the Advancement of Teaching, this issue... Read more
(R)Evolution of the New Globally Engaged Academy
Winter 2004
This issue focuses on the evolving identities and missions of colleges and universities as they... Read more
Writing and the New Academy
Fall 2003
This issue focuses on writing as a key outcome of liberal education and explores recent trends in... Read more
General Education in the New Academy
Summer 2003
This issue addresses new models for general education with a focus on models of integrative... Read more
Educating for Citizenship
Spring 2003
This issue focuses on how the academic goals of liberal education are enhanced by civic engagement... Read more
Purposeful Pathways? A Look at School-College Alignment
Winter 2003
This issue provides a critical overview of school-college alignment efforts and makes the case for... Read more
Contingent Faculty and Student Learning
Fall 2002
This issue explores issues and trends associated with the use of part-time and full-time non-tenure... Read more
The Values Question in Higher Education
Summer 2002
This issue explores the ways colleges and universities are addressing the values questions today's... Read more
Value Added Assessment of Liberal Education
Winter/Spring 2002
This issue presents the RAND Corporation/Council for Aid to Education's Value Added Assessment... Read more
Learning Communities: A Sustainable Innovation?
Summer/Fall 2001
This issue explores the challenges faced by this successful innovation and presents current best... Read more
Academic Governance: Charting a New Course
Spring 2001
This issue provides an overview of the history and current state of academic governance.
Broad Minds & Good Jobs: Integrating Liberal and Professional Studies
Winter 2001
This issue considers the context for, and the challenges of, integrating liberal and professional... Read more
A Small World? Students and Faculty Abroad
Fall 2000
This issue seeks to provoke informed debate over the shape academic exchange will take in the years... Read more
Why Is It So Hard to Change the Curriculum?
Summer 2000
This issue looks at the challenges facing those who hope to lead their campuses in revising the... Read more
Health in Campus Life and Learning
Spring 2000
This issue argues that, in the context of a liberal education, we should help students understand... Read more
As my freshman year is coming to a close at IU, I'm struck with complete disbelief.
I can't believe my first year in the magical land of college is over. As much of a cliché as it is, it feels like only yesterday I said goodbye to my parents, sat down on my bed and sighed.
I had no idea what I was doing.
I remember the moment they left I thought to myself, "Now what?"
I knew some people from my high school, but I was all alone on a floor of girls I didn't know, living with a girl I didn't know and absolutely nothing to do with myself.
Looking back, I realize that I'm probably never going to have that feeling ever again. Next year I'm living with three amazing girls I met in an on-campus apartment.
Next year I won't be all alone, I'll be surrounded by people and I probably will be after college and for the rest of my life and I honestly can't believe it.
Lesson 1: Cherish every moment
Cherish every second you have on campus, especially your freshman year. The first year of college is actually a "year of firsts."
First time living on your own, first time having a roommate other than your family, first time trying to figure out how to live without a full-sized fridge.
Some moments will really suck. You'll be driven to tears from stress, horrible days and horrible people. The semester will feel never-ending and like things are just crumbling around you.
Some moments will be the best of your life. You'll laugh so hard your freshman fifteen abs will ache. You'll smile as you meet new people and find awesome friends. You'll do a little dance in the hallway when you get an A on that really hard test.
No matter what, every moment counts and you only get so many.
Lesson 2: Work hard. You're here for a reason.
This is the lesson that no one wants to hear, but I couldn't have seen it unfold horribly so many times on campus.
Do not get caught up in all of the parties, friends and happenings on campus.
You are there for one reason: to get a degree. Don't forget you are paying for those classes you are skipping.
I know it's fun, but there has to be time to focus too. Trust me, there's time for both.
Lesson 3: Do everything you can.
I know I was just saying that there is time for both, but college is also only four years.
Please don't miss out any opportunities because you were too scared, lazy or shy.
Please join the intramural soccer team, the school newspaper and the rock-climbing club. Do whatever you want and whatever you find fun.
It doesn't matter if your friends are doing it. This is the number one thing I struggled with in both high school and college.
I was just too scared to do things by myself. I improved in college, but I still have a long way to go.
Don't miss out. Joining something you don't anyone from is the number one way to make friends.
Though the next lesson is a cliché, it's still incredibly important to your college experience:
Lesson 4: Have fun.
Need Money to Pay for College?
Every semester, Fastweb helps thousands of students pay for school by matching them to scholarships, grants, and internships, for which they actually qualify. You'll find high value scholarships like VIP Voice's $5,000 Scholarship, and easy to enter scholarships like Niche $2,000 No Essay Scholarship, and internships with companies like Apple, Google, Dreamworks, and even NASA!
Join today to get matched to scholarships or internships for you!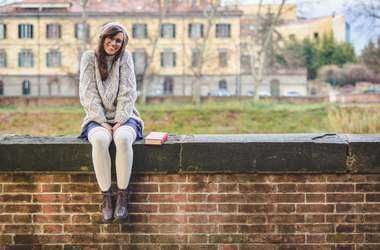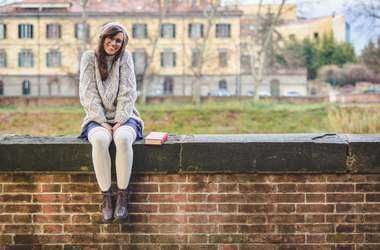 ---